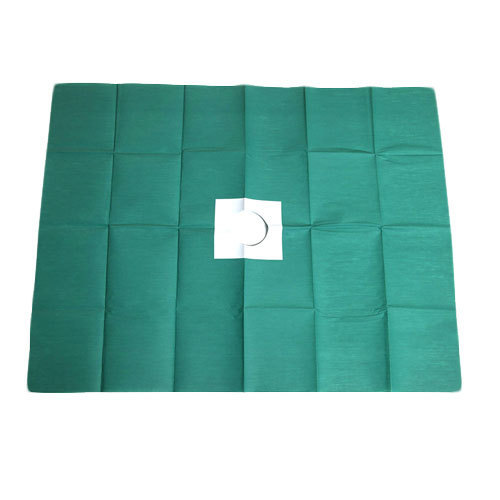 Eye surgical drapes play a vital role during eye surgeries. This offer enhanced fluid control and increased patient comfort in ophthalmic, neurological and other surgeries involving head and neck.
Surgical eye drapes are designed to give the patients one less worry and include the following features:
• The maximum rating for flame resistance
• Low-lint generation to decrease the risk of airborne bacterial transmission
• Designed with unique, U-shaped, fluid-containment pouch that helps reduce exposure during phacoemulsification and other fluid-intensive processes
• It may be used for the left or right eye
Wholesale Eye Surgical Drape suppliers take care of all the salient features and deliver excellent quality to reduce any risk factor.
Importance of surgical drape application
Proper application is essential to prevent endophthalmitis during intraocular surgery. The risk of this infection generates from the eyelashes and lids of the patient. Hence, the prime aim of using the drape is to isolate the eyelashes, lids and lid margins from the surgical field to lessen the risk of infection in the eye.
Improper application of eye surgical drape can cause a corneal abrasion
What is a corneal abrasion?
A corneal abrasion is a medical problem for the loss of the eye's cornea epithelial layer. It is as a result of injuries on the eye's surface such as pricking with an object, too much rubbing and even accidentally crashing into a hard wall or surface. In addition, the existence of foreign bodies in the eye causes scratching because they irritate the eye. While removing contact lenses, damage may occur. Last but not least, Corneal Abrasion can also be due to excessively dry cornea, which usually happens during eye surgery.
A complication during surgery
A corneal abrasion is a complication that may arise during surgery while applying surgical drape. This condition usually makes the surgery difficult to perform if the visibility of the intraocular structure is reduced. Due to this, the visual recover could be delayed.
To overcome this condition, one has to learn about the proper techniques of applying an eye surgical drape.
Here is a simple technique described by applying an eye surgical drape.
1. Recognize the glue from a drape is to adhere to the lid and periorbital area and not the conjunctiva or cornea. The clear plastic area can be a reason for corneal abrasion.
2. Rather than applying the drape with pressure, try putting the surgical drape temporarily.
3. Instruct the patient to open their eyelids and gaze to the other side of surgery to be done.
4. Use a dry surgical spear to open the lids near the canthal area.
5. Then apply the drape applied to assert pressure only.
6. Open the drape then and position over the eye with pressure applied to the inner canthal area.
This way helps to reduce corneal abrasion.
Where to buy high-quality eye surgical drape?
Get them from wholesale eye surgical drape suppliers. Apart from providing an exclusive product range, they are also appreciated for the following features:
• On-time and safe delivery
• Experienced professionals
• Customer-oriented approach
• Qualitative product range